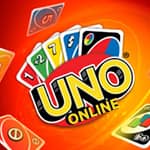 Uno Online
Description
Uno Online is a classic party game with a unique set of playing cards. Players must try to shed all the cards they have been dealt. Players can discard their cards one by one, by matching either the color or the number of the last card on the discard pile. The first player with no cards left wins the game.
How to play Uno Online?
Uno Online can be played with two, three or four players. Players can use the special action cards to frustrate their opponents by making them skip a turn or changing the direction of play. When a player has only one card left, they must declare this by pressing the UNO button. Players who don't will receive a penalty card.
Game developer
Physical Form
Release date
Wednesday August 16 2017