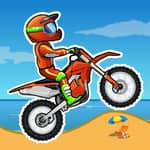 Moto X3M
Moto X3M is a motorbike racing game with 25 levels. The game is set on the beach and the obstacles are beach themed: water slides, sandy hills, giant beach balls, and so forth. The aim of the game is to reach the finish as quickly as possible. If the motorbike crashes, the engine will blow up and the driver will be killed by the explosion.
How to play Moto X3M?
Players must keep the bike balanced and land on the wheels after a jump. If the bike gets flipped upside down or if the driver slams into anything the bike will explode.
Madpuffers
Monday August 20 2018