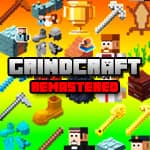 Grindcraft Remastered
Description
Grindcraft Remastered is an updated version of the game Grindcraft, an idle game inspired by Minecraft. The game is based on the concept of 'grinding': playing certain game elements over and over in order to gather a large amount of resources and/or EXP (experience points). This version features the same addictive gameplay as the original game. Return to the City State and the Chasm Mine of Grindcraftia and continue the adventure with easier graphics!
How to play Grindcraft Remastered?
The player will initially have to tap to gather resources. This process can then be automated. Players can use their resources to build new items. To unlock new tools, materials, and workers, players must look carefully at the items required for each build and set out to collect them.
Game developer
Agame
Release date
Thursday August 09 2018