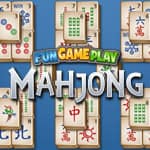 FunGamePlay Mahjong
FunGamePlay Mahjong is a mahjong game with a large amount of different levels and tile layouts. This game uses a tile set based on the traditional mahjong tiles. The aim of the game is to clear away all of the tiles by finding the identical pairs and combining them to make a meld.
How to play FunGamePlay Mahjong?
Tiles can only be played when they are free on one long side and are not covered by any other tiles.
Agame
Monday April 24 2017