Adobe Flash Player is not supported anymore on the web
Try out this game instead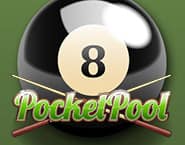 Play now

Billiards 1
Description
Billiards 1 is a pool game. The aim of the game is to shoot the colored pool balls into the pockets. One player plays the striped balls, the other plays the solid colors. The first ball to be knocked into one of the pockets determines which player will use which type of ball. The black 8-ball should be saved for last.
How to play Billiards 1?
Players cannot hit the colored pool balls directly with the cue. Instead, they must use the cue to knock the white ball against the other balls.
Game developer
-
Release date
-