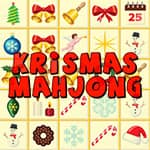 Krismas Mahjong
Description
Krismas Mahjong is a fun Christmas edition of the classic tile-matching game. The objective is to combine the identical tiles and clear them all from the board within the allotted time. The line connecting the two selected tiles may take no more than two turns and may not pass through any other tiles. The more tiles the player manages to clear away, the more paths will be available to allow for new pairs to be played.
How to play Krismas Mahjong?
The player can remove the pairs by selecting a playable tile and then select an identical tile that is also available to be played.
Game developer
Agame
Release date
Monday December 11 2017