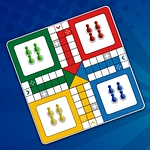 Ludo Hero
Description
Ludo Hero is an online version of the classic board game. In Ludo Hero, the player can choose between two game modes. Players can choose to play against the computer, or challenge real players in the online mode. Players can choose between playing the board game with a total of 2 or 4 players. The game objective is the guide the pawns around the cross-shaped board and bring them to the home zone. It will take some strategic calculations to win this game… and a bit of luck, of course!
How to play Ludo Hero?
Players must throw a 6 with the dice to move a pawn from the start zone onto the board. However, players can also strike each other's pawns from the board. That pawn will have to start its journey over again.
Game developer
Marketjs
Release date
Wednesday June 12 2019