Adobe Flash Player is not supported anymore on the web
Try out this game instead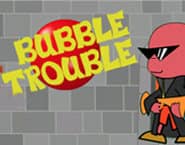 Play now
Bubble Struggle 2
Description
Bubble Struggle 2 is a famous webgame first released in 2009, and remains just as addictive as ever. The aim of the game is to help the character in the trench coat pop the colorful bubbles. The player must dodge the bouncing bubbles, but the hero can only pop the bubbles with his laser gun by standing directly beneath the bubble and shooting up. Each time the player hits a bubble, it will split into two smaller bubbles. And again. And again. Until the bubbles are so small that they pop. In order to advance to the next level of the game, the player must pop all the bubbles.
How to play Bubble Struggle 2?
Players cannot touch the bouncing bubbles and can only fire the laser gun upward in a straight line. This means that to pop the bubbles, the player will have to position the hero directly beneath the deadly orbs!
Game developer
Kresimir Cvitanovic
Release date
April 2009