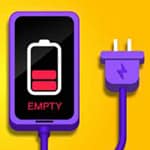 Charge Now
Description
Charge Now is a fun puzzle game in which players have to plug the right chargers into the matching sockets to charge the electronic devices. Some charging units have a clumsy shape, sometimes the wires are tangled, or there's something standing in the way. The objective is to solve a modern challenge: how to charge every appliance in the room at once.
How to play Charge Now?
To solve some puzzles, the player will need to charge other appliances first, such as solar panels and robotic vacuum cleaners. These devices can help the player clear enough space to plug in the remaining chargers.
Game developer
BPtop
Release date
Tuesday September 29 2020