Adobe Flash Player is not supported anymore on the web
Try out this game instead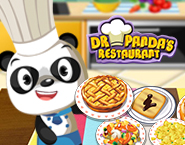 Play now

Papa's Donuteria
Description
Papa's Donuteria is a restaurant game designed by Flipline Studios. This game belongs to the Papa Louie series. Today is the grand opening of Papa Louie's Donut Shop. However, Papa Louie has left town, as usual, leaving the task of managing the restaurant to the player. The objective is to prepare the right donuts for the customers visiting the store. Fry the dough, and decorate the donuts with delicious icing and sprinkles.
How to play Papa's Donuteria?
There is a short tutorial at the start of the game, showing the player how everything in the kitchen works.
Game developer
Flipline Studios
Release date
June 16, 2014