Adobe Flash Player is not supported anymore on the web
Try out this game instead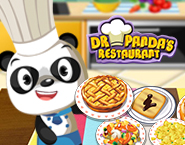 Play now

Papa's Freezeria
Description
Papa's Freezeria is a fun store management game in which players can take control of Papa Louie's ice cream shop. Once again, the main character is delighted to have landed a summer job in one of Papa Louie stores, but as always, it isn't long before Louie is nowhere to be found. Now the players has to manage the store alone. The objective is to serve the customers exactly the type of ice cream they want. Players must scoop up the right flavours and add the right sauce, sprinkles, and wafers. The better each ice-cream cone is, the more money the employee will earn. Players can use this money to buy new costumers for their character and select better decorations for the shop.
How to play Papa's Freezeria?
Each part of the ice-cream assembly will be judged for accuracy. At the end of each day, an extra critical customer will enter the shop and judge the player's skill for extra points.
Game developer
Flipline
Release date
August 5, 2011