Adobe Flash Player is not supported anymore on the web
Try out this game instead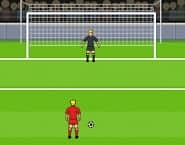 Play now

World Cup 2010 Penalty
Description
World Cup 2010 Penalty is a penalty shootout football game set at the 2010 World Championships. The player can taking penalty shots at the goal, and then defend their own goal with the keeper. The aim of the game is to score more goals than the opposing team and advance to the championship finals.
How to play World Cup 2010 Penalty?
Players can score goals by kicking the ball in the right direction and at the right speed to shoot it past the goalkeeper. When defending the goal, players can use the gloves to block the opponent's shots.
Game developer
-
Release date
2010