Adobe Flash Player is not supported anymore on the web
Try out this game instead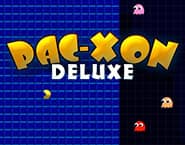 Play now
Pacman Classic
Pacman Classic is an online version of the arcade classic Pac-Man. The player must move through the maze with the yellow creature and eat all of the dots. In the meanwhile, the player must avoid the four ghosts that are roaming through the maze.
How to play Pacman Classic?
Players can collect the big dots to make the ghosts vulnerable. The player can then temporarily eat the ghosts. To clear each level, the Pac-Man must eat all of the dots in the maze.
-
-